D

uring April, I took up the great opportunity to jump on a flight and spend a week working with schools in the ever growing city of Dubai. To stress the speed of Dubai's growth; in September, no fewer than twenty-four new British International schools opened!
I learnt a number of things while I was out there, but what surprised me most was… in that amazing city and in those amazing buildings, pupil tracking is still pupil tracking. Teachers want to document progress and senior leaders still have to report data for their 'Ofsted', called KHDA (Knowledge and Human Development Authority). I've jumped forward in time here; I'll start at the beginning…
In February, three schools who form part of Kings' Education contacted me to ask what OTrack had to offer and how we could help. After some really interesting conversations and a remote demonstration, the group decided to roll out OTrack in their schools. That was great news! But this news was soon topped, James Carroll (one of the senior leaders) called me and explained that all three schools use the same method of assessing and tracking, but all have slightly different ideas, so he invited me to go out to Dubai and spend a full week working with them, I was more than eager to accept the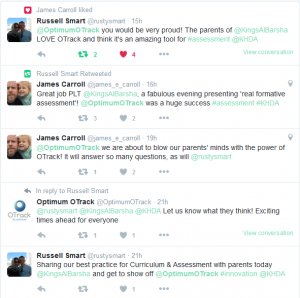 offer! I had a chat with Matt (my manager) and he happily agreed! Great, I was on my way!
I started the week at Kings' School Al Barsha, where I met with James and his team of school leaders. The day started with an introduction to the team, I would be spending a lot of time with them over the next five days, so it was great to get to know everyone on the off-set. We started off setting up certain features to make sure OTrack was working in line with their shared ethos, I took them through the system and focused on the powerful analysis that they had access to. It was an interesting and very useful day – at the end of it, I understood how the school leaders wanted to track pupils in each school. I was ready to get out to the schools and show them what we had done and how we could tailor it further to meet each school's specific requirements.
Travelling around Dubai and getting to schools is (as I'm sure you can imagine) very different to my usual M1 and M62 experiences! Travelling through the high-rise city centre, past infamous sights and many beautifully designed gardens was an eye opener to say the least. But then, within minutes, being surrounded by a vast desert landscape, made school visits a completely new experience for me! Amazing!
When in the schools, we started each day the same… meeting with the leadership team and going through the system, making any needed tweeks and customisations. In the afternoon, I would meet with the teaching staff and explain how the leadership teams wanted them to use OTrack.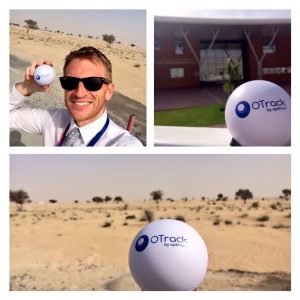 What I liked about my visits was the enthusiasm everyone showed when seeing the system, and how they appreciated that we had spent time to understand their needs and setting OTrack up according to their specific requirements. The work we did allowed the schools to continue to track how they want but to simplify the recording of data and vastly improve their ability to analyse data.
Now I am back in England, I have already started working with the application development team and the report development team here. We will be making further customisations for the schools and we will be getting those ready and enabled in their systems over the coming months.
Over the week, there were four main people I dealt with, James Carroll, Russell Smart, Hannah French and Bede Higgins –  I would like to thank them for making me feel welcome. I would also like to say, publicly… if they want me back out there just let me know!
Now, I just need to pass that by my manager… over to you Matt?